Local Gettysburg Events & Festivals
Living History Camps - Most Weekends April - November
Gettysburg Heritage Center hosts complimentary Living History Encampments. Visitors are welcomed to actively learn by strolling through the camp, viewing drills and demonstrations and engage in conversations with historians.
Click here for Living History Camps information
For more information: 717-334-6245 or email: info@gettysburgmuseum.com
Facebook.com/GatewayGetty Monthly Contest: WIN The Outlets Shoppes at Gettysburg gift cards plus other great prizes.

Enter to win $25 gift cards for Columbia and The Outlet Shoppes at Gettysburg plus a fun umbrella, frisbee and The Outlet Shoppes at Gettysburg coupon book. Go to the @GatewayGetty Facebook page and look for the Outlet Shoppes at Gettysburg post. Comment #GettysburgOutlets on post to WIN! Enter now
Check back each month for exciting contests!
An Eisenhower Christmas - Daily through December 31, 2017
Experience President Dwight "Ike" and Mamie Eisenhower's holiday decorations in their home near Gettysburg. Tickets and shuttle bus to the site are required. Historic nativity scenes from the Eisenhower White House will be on display in the Gettysburg National Military Park Museum and Visitor Center. The Eisenhower National Historic Site is open daily with shuttle buses leaving the Gettysburg National Military Park Museum and Visitor Center at 10:00am, 11:30am, 2:00pm and 3:30pm. Admission is $9 for adults and $5 for youth ages 6-12; children age 5 and under are admitted free. Advance reservations are available and highly recommended for groups. Reservations can be made by calling 877-874-2478. Click here for more information.
Destination Gettysburg - Year round
Visiting Gettysburg, Pennsylvania can be a trip of a lifetime or an easy weekend getaway. Our rich history - which includes the Gettysburg Battlefield and so much more - will entice you to come, while our recreation and recent culinary resurgence will make you linger and return.
Click here to view Destination Gettysburg website: http://www.destinationgettysburg.com
Four Weeks of Winning- Outlet Shoppes at Gettysburg begins November 24, 2017
Bring your Outlet Shoppes at Gettysburg shopping receipts to Customer Service located behind Old Navy, from November 17 - December 15th, to enter to win one of 4 fantastic holiday packages each valued at $500.00! The more receipts, the more entries! One winner will be announced each week for four weeks beginning November 24th Black Friday. Happy Holidays! Click here for information
FREE Historic Dobbin House Tours - Select Weekends through December
Enjoy a FREE tour of the oldest historic house in Gettysburg, the Dobbin House. Built in 1776 by the Rev. Alexander Dobbin, his stone house spans three centuries of American history, from the Revolutionary War through the Civil War and beyond.
View all the historically decorated rooms. Interact with period antiques. See how the Dobbin family planned to defend themselves from Indian attacks.
Hear what the Zeigler family experienced while living in the Dobbin House during the Battle of Gettysburg.
Peek in the kitchen of the current restaurant. Click here for website
Christmas Eve Dinner- 1863 Restaurant - December 24, 2017
Make 1863 Restaurant a part of your family tradition by spending Christmas Eve with us. Our Chef's have prepared a festive menu sure to please your entire family. Choose from our regular menu or enjoy our 3 course Christmas menu with or without wine pairings.
Reservations requested but not required: 717-339-0020 x6019 or email gburginfo@interstatehotels.com
Christmas Day - 1863 Restaurant- December 25, 2017

Make 1863 Restaurant a part of your family tradition by spending Christmas Day with us. Lunch is served 11:30am to 2:00pm and a limited regular menu will be available. Dinner is served 5:00pm to 10:00pm. Our regular menu and our 3 course Christmas menu with or without wine pairings will be offered.
Brunches 1863 Restaurant - Year Round
What better way to celebrate the holidays than with family. Start your family tradition in 1863 Restaurant located in the Wyndham Gettysburg Hotel. Our festive holiday brunches are sure to please the entire family.


Reservations suggested

717-339-0020 x6019 or email us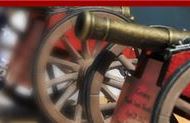 Visit our website: www.1863RestaurantandLounge.com
New Years Eve Mardi Gras Party - December 31, 2017
Ring in 2017 with style at the Wyndham Gettysburg Hotel. This years theme is Mardi Gras. Book your party package. Early booking incentive for booking before November 30, 2017.
Click here for the New Years Eve Flyer
Day trip ideas from Gettysburg, PA - 1 hour

Seton Shrine: Whether you're interested in history, the outdoors, or simply something inspirational, The National Shrine of Saint Elizabeth Ann Seton offers a breadth of experiences to discover-some reflective, some intriguing, others inspiring, but all deeply rewarding. Take time to explore the grounds and visit the sites of interest, each one a symbol of Elizabeth Ann Seton's amazing life and legacy of service and love. Click for website

Steam into History: The William H. Simpson No. 17 is a faithful replica of the Civil War steam locomotive that carried Abraham Lincoln to deliver his now famous Gettysburg Address. These same tracks carried Lincoln's funeral train two years later. Come experience history as you ride in custom built coaches, pulled by a a 1860s replica steam locomotive. Click here for website
Car Shows
Our beautiful 100 acre campus has ample space to host car shows. Are you a car enthusiast? Stop by to see these cars 2018:


Delaware Valley Region CCCA Grand Classic

May 2-6, 2018: Click here for website.


NAMGBR's MG 2018

June 17-22, 2018: Click here for website.
Antique Automobile Club of America AACA Eastern Spring Meet - Chesapeake Region July 11-14, 2018: Click here for website.
2018 Olds National July 31- August 5, 2018: Click here for website.

Past car shows:
Do you love Early Ford Model A Cars? Watch the video of the Modal A Restorers Club Tour (MARC) that departed our campus August 3, 2017.